Soapstone
Soapstone is also called steatite and is known by regional and marketing names, has been in use for thousands of years. It gets its name because of its softness and "soapy" feel. Soapstone is nonporous and nonabsorbent, which makes it a good material for kitchen countertops and sinks. It is also used for insulating electrical components due to its low electrical conductivity. Soapstone is also used for construction of fireplace surrounds and with metal woodstoves.
Soapstone is durable and dense
Soapstone is a maintenance-free material
Soapstone is resistant to bacteria, stains, acids, chemicals, wine, and heat
Soapstone does not require sealing, keeping chemicals out of the kitchen
Soapstone thaws food quickly because it absorbs the temperature of its environment
Beyond its practical benefits, this beautiful natural stone adds style to both traditional and modern spaces. It develops a beautiful patina with age, which can be allowed to evolve naturally or evened and deepened by oil application.
Below are just a few varieties, but BOSS has hundreds of options to choose from. Please stop by our showroom or call 716-857-0755.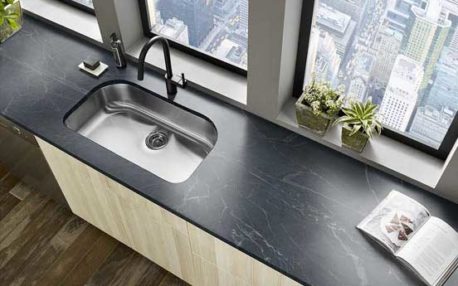 In the art world, soapstone is used for inlaid designs and sculpture with some Native Americans using soapstone for traditional carvings.